Edition 2006
Du 10 au 19 février 2006
Palais des Expositions
Porte de Versailles à Paris
30ème anniversaire
Rétromobile 2003 : La collection du musée de Beaulieu
C'est devenu un privilège pour les visiteurs du salon Rétromobile : Chaque année, les organisateurs nous offre de découvrir une collection ; pour la 28ème édition, ce sont des véhicules extraordinaires de la collection de ce musée britannique qui auront fait le voyage jusqu'à la Porte de Versailles à Paris.
J.L.B.Infos
Rétromobile 2003 sous le signe des records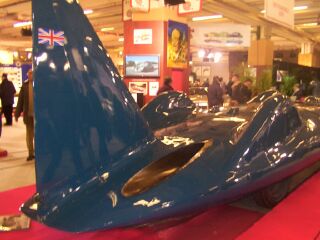 Photos JL BENOIT © La Voiture de Donald CAMPBELL
Parmi ces voitures fantastiques, on trouve une Sunbeam 350 cv de 1922 réalisée par Louis COATALEN qui était motorisée d'un V12 de 18322 cm3. Malcom CAMPBELL devint recordman de vitesse avec ce véhicule avec 235,217 km/h et pour s'arrêter que deux freins à câbles sur les roues arrières !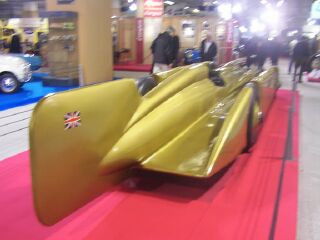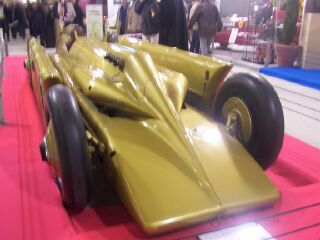 Photos JL BENOIT © La Golden Arrow de 1929
Une Sunbeam de 1000 cv de 1927 réalisée aussi par COATALEN était équipée de deux moteurs d'avion Matabele de 12 cylindres en V de 45 litres de cylindrée : 1000 cv à 2000 tours minute seulement ! 6,09 m pour 3800 kg, la carrosserie rouge fut dénommée « Slug », la limace pulvérisant un 327,898 km/h.
La Golden Arrow de 1929 dessinée par le capitaine Jack IRVING a un fuselage qui ne dépasse pas 1,15 m de haut sur 8,43 m de long. Le moteur Napier Lion de 12 cylindres en V développe 1000 cv pour 23948 cm3. Refroidi avec de la glace et deux radiateurs, la « Flèche d'Or » a réalisé un record sur la plage de Daytona : 6 km de piste de lancement, puis 1500 km de chronomètrage, puis 6 km pour le freinage : le 11 mars 1929 Henry SEGRAVE remporte un record à 372,386 km/h.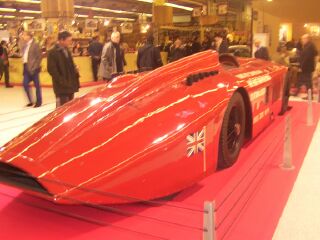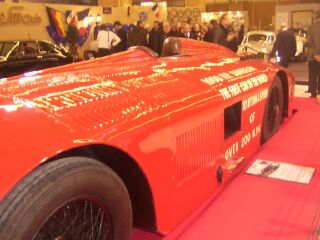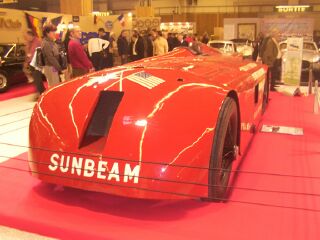 Photos JL BENOIT © La Sunbeam V12 350 hp détenteur au record de vitesse
Le Bluebird CN7 Proteus 1960 fait suite d'une saga de prototypes réalisés depuis 1927 pour le recordman Malcom CAMPBELL. Le 7ème de la liste est le CN7 construit à Coventry par Motor Panels et piloté par son fils Donald. Equipé d'un turbopropulseur Bristol-Siddeley Proteus de 4500 cv à 11000 tours/mn, le 16 septembre 1960 il réalise une performance avoisinant les 600 km/h sur le lac salé Eyre, mais le record échoua, le véhicule s'emporte, s'envolle et part en tonneaux. Donald en sort indemne, le chassis Blubird. Plus tard, il réalisera la vitesse de 648,587 km/h le 17 juillet 1964.
Le 25 août 2006, sur le lac salé de Salk Lake City près de Bonneville, dans l'Utah aux U.S.A., l'équipe de JCB Diesel Max remportait un record piloté par Andry GREEN, un militaire de la Royal Air Force, déjà détenteur d'un record mondial en 1997, avec cette fois celui de la plus rapide vitesse du monde pour un moteur diesel : + de 563 km/h, 563,418 km/h de moyenne exactement avec un aller à 588,664 km/h ; le précédent record datait de 1973.
Retrouvez d'autres infos sur les records de vitesse de Vincent PERROT
Some English to see this british museum
This exposition in Paris was composed by cars from the Beaulieu Estate, home of the Montagu family and the National Motor Museum, a palace house opened to the public in april 1952 : Beaulieu became also a rival to tthe other great houses of England. "His succes was in large prt due to the motoring ingredient : A smal display of veteran cars in the front hall of the house, intended as a memorial to my pioneer motorist father, sparked a new public interest in old cars. The collection quichly outgrew the family home, leading to the creation of a separate motor museum and an attraction in its own right. Supported by the British motor industry and enthusiasts, the museum continued its expansion, eventually becomming recognised as Britain's National Motor Museum in 1972." said Lord Montagu of Beaulieu. "I have always believed that Britain's great houses and gardens, originally created for the pleasure of a few, should now be enjoyed by the many. I'm also dedicated to ensurign that the story of Britain"s motoring heritage should be appreciated by the widest possible audience. By visiting Beaulieu, you are contributing both to the never-ending task of maintaining the estate and developing the Motor Museum.
John, Second Baron Montagu of Beaulieu, father of the present Lord Montagu, was a motorign pioneer. The first Motor Museum was fonded by him. we can find the story of motoring in Britain from the 1890s to the present day, vehicles and motocycles, elegant and stylish designs, the famous racing and record cars : Formula one like Bugatti type 35 1924, 1907 Itala 120 hp, Lotus 49 R3 1967, Ferrari F1 1996, Renault Wiliams FW18 1996, 1988 Marlboro Mc Laren Honda MP4/4, and Renault Benetton, the formula one from and the others competition vehicles like Silk Cut Jaguar, or the James BOND Car's BMW in 2001. Baron Montagu of Beaulieu has many pictures with Prince CHARLES (1974 and 1986), Paul Mc CARTNEY in 1929 Hispano Suiza, Anneka RICE (1986), Nigel MANSELL (1992), Johnny MATHIS (1983) in 1914 Rolls Royce Alpine Eagle, Jacky STEWART (1970) poses by the 1957 BRM, Graham HILL (1976), Anne SIDNEY (Miss World 1964) in his Silver Ghost, CHER in 1995 or before Susannah YORK, Diana DORS, Stirling MOSS (1959).
Beaulieu's Museum is also the garage story in different aspects with good old librairy and Art Collection, Motoring Art.
You can see original cars like Outspan Orange Car, Unic Taxi 1908, 1907 Gobron Brillie Fire Engine, 1914 Ford Model "T" Bakers Van.
The motocycles collection composed with any good elements like Rotax Jap MK1 speedway 1950, Greeves Hawkstone (Motocross 1961), Ariel HT5 Trial 1952, 1912 "Old Miracle" Norton, Matchless Jap 2 speed, 1960 Manx Norton, 1942 Harley Davidson 42 WLC.
The ultimate challenge parts give some fabulous engine like Thrust SSC, 1920 Sunbeam V12 350 hp, the Golden Arrow 1929, piloted by Donald and Malcom CAMPBELL or Henry SEGRAVE.
Classic cars like 1956 Austin Healey 100 N, Ford GT 40 1969, De Lorean 1982, 1974 Dino Ferrari, 1962 Jaguar E-Type roadster or 1993 XJ220, sporting image like 1913 Vauxhall Prince Henry, Allard J2 1950, MG Midget 1930, Bentley 4.5 Supercharged or berline like 1963 Ford Consul Cortina MK1, Austin A90 Atlantic 1952, Vanguard 1 standard 1951, 1937 Ford Model Y, 1914 Sunbeam 12/16 hp Tourer are in Beaulieu's Museum.
Do not forget the ripples spread like 1928 Mercedes Benz 36/220, 1935 Auburn 851 Speedster, 1925 Rolls-Royce Phantom 1, 1937 Ford Beverley Sedan, 1934 Talbot 105 or elegant cars like 1912 Hispano Suiza, 1913 Argyll 15/30 hp, 1909 Rover 6 hp, 1925 Austin Seven Chummy, 1903 De Dion Bouton,
The oldest and innovaters cars : 1884 from Carl BENZ, Gotlieb DAIMLER with his Adolf Daimler 1886, 1899 Fiat 3.5 hp and 1901 Colombia Electric...
Beaulieu's Museam is situed between Weymouth and London on the A 326 near Southampton near Buckler's Hard Story and Beaulieu Abbey.
Retrouvez d'autres infos sur Rétromobile 2003
© Tous droits protégés et copyright
Toute reproduction, représentation, traduction ou adaptation, qu'elle soit intégrale ou partielle, quelqu'en soit la propriété, le support ou le média, est strictement interdite sans autorisation de l'auteur - Copyright sur toutes photos de l'auteur.